My Blog
Posts for: May, 2017
By Hillis Family Dental
May 27, 2017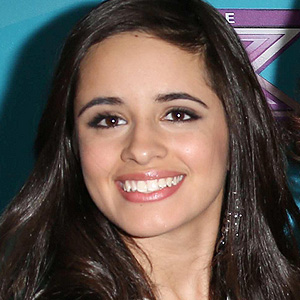 Everyone loves a concert where there's plenty of audience participation… until it starts to get out of hand. Recently, the platinum-selling band Fifth Harmony was playing to a packed house in Atlanta when things went awry for vocalist Camila Cabello. Fans were batting around a big plastic ball, and one unfortunate swing sent the ball hurtling toward the stage — and directly into Cabello's face. Pushing the microphone into her mouth, it left the "Worth It" singer with a chipped front tooth.
Ouch! Cabello finished the show nevertheless, and didn't seem too upset. "Atlanta… u wild… love u," she tweeted later that night. "Gotta get it fixed now tho lol." Fortunately, dentistry offers a number of ways to make that chipped tooth look as good as new.
A small chip at the edge of the tooth can sometimes be polished with dental instruments to remove the sharp edges. If it's a little bigger, a procedure called dental bonding may be recommended. Here, the missing part is filled in with a mixture of plastic resin and glass fillers, which are then cured (hardened) with a special light. The tooth-colored bonding material provides a tough, lifelike restoration that's hard to tell apart from your natural teeth. While bonding can be performed in just one office visit, the material can stain over time and may eventually need to be replaced.
Porcelain veneers are a more long-lasting solution. These wafer-thin coverings go over the entire front surface of the tooth, and can resolve a number of defects — including chips, discoloration, and even minor size or spacing irregularities. You can get a single veneer or have your whole smile redone, in shades ranging from a pearly luster to an ultra-bright white; that's why veneers are a favorite of Hollywood stars. Getting veneers is a procedure that takes several office visits, but the beautiful results can last for many years.
If a chip or crack extends into the inner part of a tooth, you'll probably need a crown (or cap) to restore the tooth's function and appearance. As long as the roots are healthy, the entire part of the tooth above the gum line can be replaced with a natural-looking restoration. You may also need a root canal to remove the damaged pulp material and prevent infection if the fracture went too far. While small chips or cracks aren't usually an emergency (unless accompanied by pain), damage to the tooth's pulp requires prompt attention.
If you have questions about smile restoration, please contact us and schedule an appointment. You can read more in the Dear Doctor magazine articles "Porcelain Veneers: Strength & Beauty As Never Before" and "Porcelain Crowns & Veneers."
By Hillis Family Dental
May 12, 2017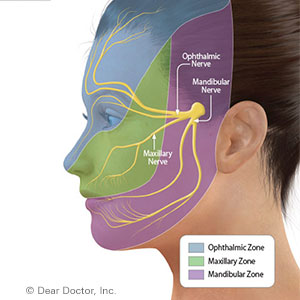 Life would be harrowing if we had no ability to feel pain. Although experiencing it is unpleasant, pain's purpose is to alert us to something wrong in our body. Without pain diseases and other problems could worsen to the point of life-threatening.
But pain without a purpose — the nerves simply misfiring — can make life miserable. This can happen with the trigeminal nerves that exit the brain stem and end on each side of the face. Each nerve has three branches that serve the upper, middle and lower parts of the face and jaw.
When they don't work properly, trigeminal nerves can give rise to a disorder known as trigeminal neuralgia. Beginning often as an occasional twinge, they may escalate to several seconds of mild to excruciating pain occurring over weeks, months or even years. An episode may erupt from chewing, speaking or even lightly touching of the face.
We see this condition most often in people over fifty, particularly women. We don't know the exact cause, but there's strong suspicion that the nerve's protective sheath has been damaged, similar to what occurs with multiple sclerosis or other inflammatory conditions. Another possibility is a blood vessel putting pressure on the nerve and disrupting its normal operation. Such an impinged nerve might transmit pain signals at the slightest stimulation and then fail to "switch off" when the stimulation stops.
Although we can't cure trigeminal neuralgia, we can help you manage it and reduce discomfort during episodes. We'll first try conservative, less-invasive techniques, like signal-blocking medications or drugs that reduce abnormal firing.
If these aren't effective, we may then recommend a surgical solution. One such procedure is known as percutaneous treatment in which we insert a thin needle to selectively damage nerve fibers to prevent their firing. If we've determined an artery or vein has compressed the nerve, we might surgically relocate the vessel. These techniques can be quite effective but they do have possible side effects like numbness or hearing loss.
If you've experienced facial pain, don't continue to suffer. Visit us for a complete examination and learn about your options for pain relief. More than likely, there's a way to reduce your pain and improve your quality of life.
If you would like more information on facial pain, please contact us or schedule an appointment for a consultation. You can also learn more about this topic by reading the Dear Doctor magazine article "Trigeminal Neuralgia."