Listed below are our weekly office hours, including a map of our location off Mexico Road. At the bottom of the page find answers about scheduling an appointment, insurance services, and billing.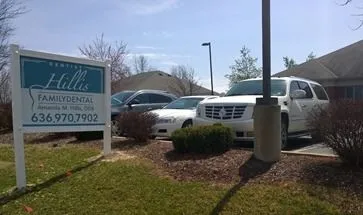 St. Peters, MO Dentist
Hillis Family Dental
7421 Mexico Road, Suite #202
St. Peters , MO 63376
Office Hours

| | |
| --- | --- |
| Monday: | 08:30 AM - 05:00 PM |
| Tuesday: | 08:30 AM - 04:30 PM |
| Wednesday: | 07:30 AM - 04:30 PM |
| Thursday: | 07:30 AM - 02:30 PM |
| Friday: | Closed |
| Saturday: | Closed |
| Sunday: | Closed |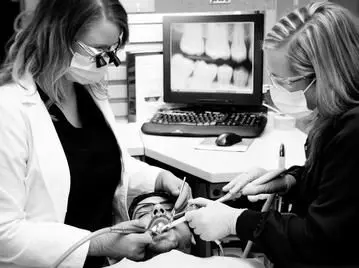 Frequently Asked Questions

Appointments
We know you have many choices when choosing a Dentist in St. Peters, MO, so we have made requesting an appointment a simple process via our website, just click on the "Request an Appointment" clock symbol found at the top of each webpage. If, for any reason you cannot keep a scheduled appointment, or will be delayed, please notify us 48 hours prior to the appointment. Failure to notify us of your cancellation within 48 hours of your scheduled appointment time may incur an inconvenience fee charged to your account. Through our office software we also offer courtesy text or email reminders that allow you to confirm you will be at your appointment.

New & Emergency Patients Welcome
We are a St. Peters Dentist Office that provides quality dental care to children and adults of all ages, as well as new and emergency patients. We accept dental patients from across St. Charles County and the greater St. Louis Metropolitan Area. We accept a wide array of dental insurance plans (PPOs), like many plans offered through popular regional businesses, as well asl many local small businesses.
Anyone without dental insurance is eligible for our standard fees. Our office's standard fees are comparable to what the average insured person would be charged if insurance had covered their portion of the dental procedure or dental visit. Our standard fees are designed to be competitive and affordable, so that you can always prioritize your dental health. If you do not have insurance but are able to cover the cost of your dental care, our standard fees make sure that we offer a competitive rate based on what you would have paid after insurance covered its portion. Our goal is to help you, the patient, manage your oral health costs through competitive in-office fees that allows you to access dental care without dental insurance or until it next becomes available to you.This office does not accept Medicaid.

Insurance and Billing
At Hillis Family Dental we accept traditional insurance plans popular with most regional businesses, well-known local corporations as well as small businesses. Please contact our office to verify we accept your insurance plan (PPOs). Hillis Family Dental does not participate in Health Management Organizations (HMOs); however, we will be happy to file your insurance claims for you, help answer insurance questions, or aid you throughout the claims process with your insurance company. Please contact us for further details: we are happy to answer insurance questions or file insurance for your reimbursement as long as you are free to choose your own dentist .

Payment Options
We accept checks, cash, most credit cards, as well as CareCredit. Patients with established credit are also eligible to negotiate a payment plan with us, especially in the event an expensive procedure was needed or a simple procedure revealed a bigger, more costly problem. Whatever the case, at our office we want you to get the care you need for optimal dental health. Contact us today! We are proud to serve you and make sure you are on the right path for a healthy mouth, healthy smile. We are happy to file insurance for your reimbursement as long as you are free to choose your own dentist.

Financing Options


CareCredit is a form of payment we accept, which is a plan aimed at helping you pay for treatments and procedures your insurance does not or will not cover. CareCredit offers no Interest* financing or low minimum monthly payment options so you can get what you want, when you want it. You can even use CareCredit for your family and favorite pet.

By taking three simple steps, including an instant approval process, it's easy to apply for CareCredit. After you're approved, you're free to use CareCredit for the services you choose including dentistry and other health areas. For more information contact CareCredit offices or apply online, visit carecredit.com .